Google reviews provide valuable information about а business's operations and customers' actual experiences who had a real interaction with that business. For the truth's sake, Google reviews matter mostly because customers discover local businesses there, making Google the most important review platform for local businesses.
What are Google reviews, and why do they matter?
Google review search provides results that are usually a combination of the proximity to your location and a local business's ratings on Google. And that rating is actually aggregated by the reviews people submit on Google Maps for a particular location.
How do Google reviews work?
Successful digital marketing tactics drive Google's local SEO algorithm. Therefore, it is highly likely that businesses with a high number of reviews will show up first in local searches for a particular brand keyword. And as mentioned above, this combination of the average rating, the number of reviews, and the proximity to the user will most probably define the position of a listing in Google maps. So, having a well-optimized Google My Business profile and Google reviews helps your local ranking on both Search and Maps.
Where do Google reviews appear?
Your Google reviews show on your Google My Business profile. From there, Google's ranking system can pick them up and display them in:
1. Google Local search results
When someone searches for a navigational keyword, for example: "best pizza near me," if you are in the "pizza" business and the potential customer is near your location, Google will show your business listing.
Further, if someone searches for your business name, they can be shown in the Google Maps section of the Google Search results or directly in the Google Maps app.
5 ways to get 5-star Google reviews
1. Ask for Google reviews
The number one way to get more reviews is to ASK. And, not just some customers, but every customer.
So, once you've finished working with a customer or are in the middle of a project with a client, ask them to leave you a review.
But remember, it's imperative to ask for a review at the right time. And the best time is when your customer is happy.
Here are some best practices to ask for a Google review:
Tell them the exact steps to follow to leave a review.
Provide them with a direct link to your Google Business Profile.
Share some examples of your top reviews so they can get an idea of what others have said about your business.
If applicable, give your client a review on their GMB listing or LinkedIn profile to reciprocate.
Asking is an easy step to make, but many businesses are afraid of asking for a review in the fear that they might get a negative one or the customer may not prefer giving one. However, you need to take a leap of faith. (Plus, 70% of people will leave a review if asked!)
2.Create a shareable link
Make it easier for your customers to leave you a Google review by adding a review link on your website or sending a custom link via email. It makes the process easier because now the customer needs to fill in the details without doing any hard work.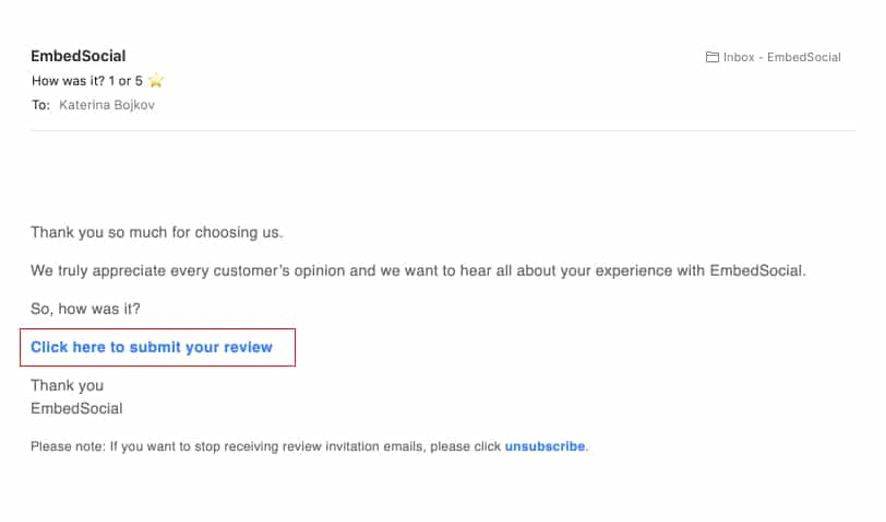 To generate a custom Google review link, follow these steps:
Sign in to your Google Business Profile account.
Select the location or business you want to manage.
Click on the 'Get more reviews' button.
Create a custom short URL by clicking the pencil to edit.
Share with your customers.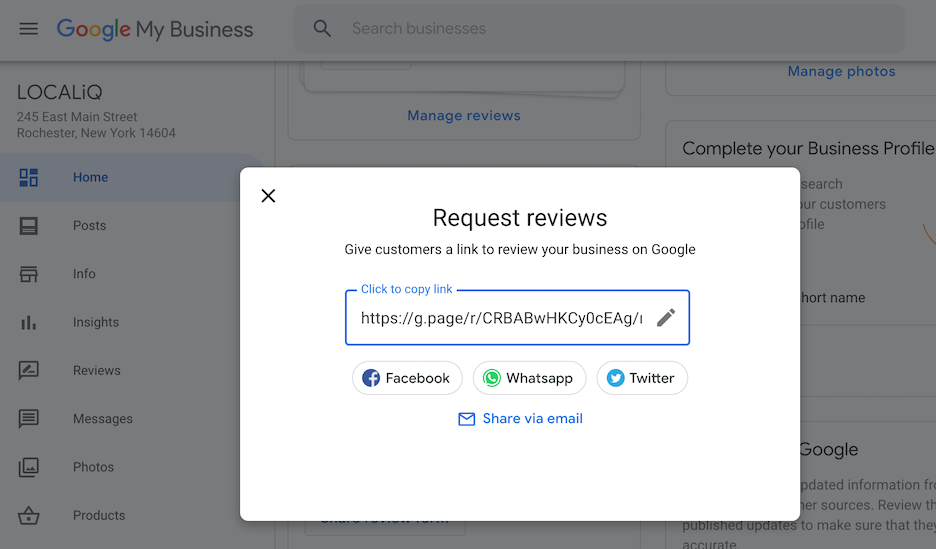 Use this link on your website as a pop-up or in your targeted email while you're thanking the customer or sending them the invoice. The idea is to make it easier for them to follow along so they leave your business a Google review.
3.Provide excellent customer service
A sure-shot way to land more Google reviews is to provide great customer service, which compels them to leave you a review voluntarily. One of the most significant aspects of a business is that you can completely turn it around based on how you treat your customers.
If you build a relationship with them, provide exceptional services, and express gratitude for them being your customer, you win.
Here are some ways to better meet your customer needs:
Go beyond traditional support and provide personalized help.
Take feedback from your customers regularly and work on it.
Identify things you can do better for an improved customer experience.
Train your team members to be polite and empathetic.
Make it easy for customers to get in contact with you.
Humanize your business by extending personal support and offering exceptional services to your customers. Once this happens, you won't have to worry about asking for reviews.
4.Respond to existing reviews
If your customers are taking out the time to leave you a review, you must reply to them. Inevitably, no business gets only positive reviews. There will be negative reviews, as well. However, the key is to respond to both of them with politeness and gratitude.
For negative reviews, many businesses don't reply. However, your response to those reviews is essential because that shows how much you value your customers and how seriously you take feedback.
When you get a negative review, consider the following best practices:
Apologize for their experience.
Understand the situation by getting in touch with them personally.
Ask them what happened and how can you improve it.
Offer them an incentive that makes up for the negative review or service.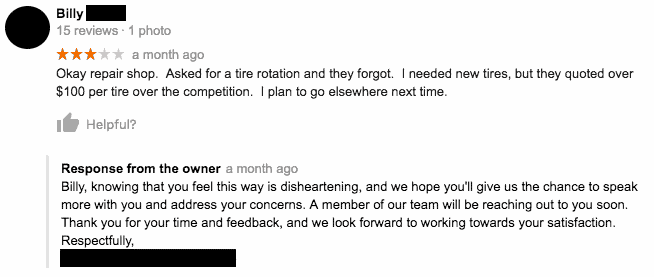 When you get a positive review, thank them.

However, there are times you may need to delete a Google review if you feel it violates Google's terms.
5.Share your positive reviews
Any positive Google reviews your business receives should be celebrated! Be sure you share positive reviews on your business's website and social media platforms to help remind other customers to leave their feedback.
Not only will this help highlight any great Google reviews you get, but it can also entice other customers to follow suit and leave even more feedback. Not every potential customer may make it to your Google listing initially, so promoting your positive Google reviews across other marketing channels will broaden the awareness of your Google presence.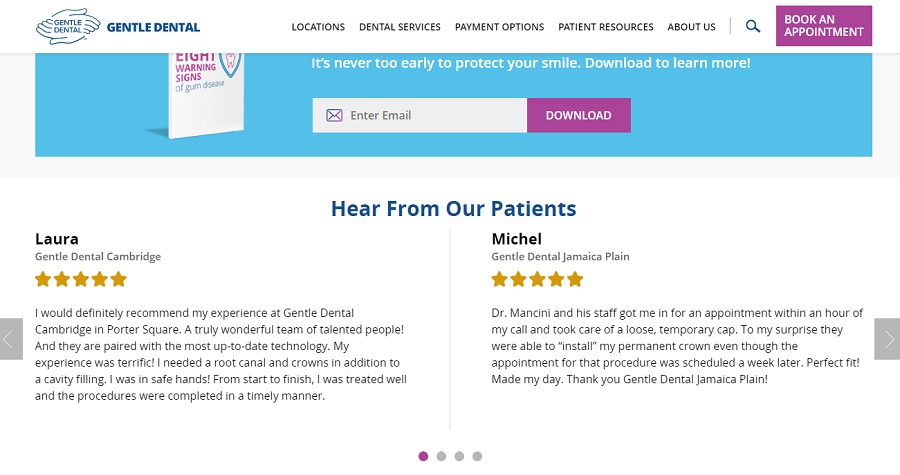 What are the benefits of Google Reviews?
As Google is the most used and trusted search engine, people also consider Google reviews as reliable information to make conclusions about a specific product or a service.
Undoubtedly,  reviews are becoming very important for today's business owners. They represent a vital part of their business's digital marketing strategy and online presence. One of the most significant benefits of Google reviews is that they boost local search rankings.
Therefore, knowing how to set up and optimize your Google My Business listing for better local SEO exposure in the SERPs is critical.
Here are some quick, helpful tips:
Choose a nice profile and cover photo
Choose the relevant business category
Enter relevant business information like description, phone number, location, website URL, working hours, etc.
Also, note that messaging or chatting with potential customers is a great Google My Business feature that is enabled for some countries.
You have to enter your phone number and enable the Click-to-Message this option.
Having all of these features in mind, here are the main benefits of Google reviews for your business:
Improving brand trust
Increasing online exposure
Driving organic traffic from local SEO
Providing essential feedback about your company
Improving conversions on landing pages
Increasing sales
These benefits are great for any business type, but especially for small businesses that want to get new customers to grow faster.